Repair It- Don't Replace It – Save up to 75% replacement costs by having us fix your carpet & rugs!
Revive Carpet Repair: Your Trusted Local Los Angeles Carpet Repair Co- Call (310) 736-2018
No matter what type of Carpet Repair Los Angeles services you may be seeking, you can rely on Revive Carpet Repair. We offer comprehensive:
Pet Damaged Carpet Repair

Carpet Stretching & Restretching

Water Damaged Carpet Repair

Recreational Vehicle Carpet Repair
Carpet To Tile Transition Repair

Wool Carpet Repair Experts

Bleach Spot/Stain Carpet Repair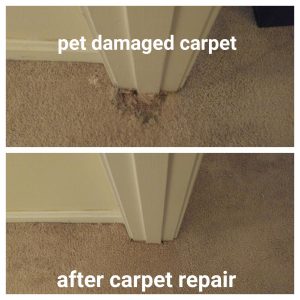 Revive Carpet Repair offer On-time, Worry Free, Fast Carpet Repair, Carpet Dyeing, Carpet Cleaning Service the Same Day
Revive Carpet Repair is a licensed carpet repair los angeles services company where on-time, prompt, professional and courteous services are a way of life. We offer wide ranging carpet and rug cleaning and repair services throughout All of LA & Ventura Counties and the neighboring areas.
As carpet and rug cleaning and repair experts, Revive Carpet Repair offers peace of mind and evokes trust in the minds of consumers who are seeking prompt and efficient carpet cleaning and repair services. Since 1988, our customers know they can trust us completely to do any work right the first-time round. We will never give you a reason to complain or be dissatisfied with the work we do. In fact, customer service is integral to our business philosophy and this has garnered us an impeccable reputation in the All of LA & Ventura Counties, Riverside County, San Bernardino County, Santa Barbara County, North County & San Diego County areas.
High quality carpet cleaning is ultimately defined as being able to restore or clean carpet and return it to its natural luster and pre-soiled restored state. There are 2 enemies to this: (1) Not using the right Chemicals, Heat, Agitation & process & (2) LEAVING TOO MUCH SOAP, CLEANING AGENTS IN THE CARPET!
Soap is more of an enemy than the soil is. This is because soaps and detergents are electrically charged to ATTRACT dirt! Resoiling quickly and prematurely are the end result.
Revive Carpet Cleaning are EXPERTS in carpet cleaning. We are IICRC certified trained as well as having our masters in advanced fiber identification, cleaning & repair. We DO NOT USE THE SOAPS THAT OTHER CARPET CLEANERS USE. OUR CLEANING LEAVES NO RESIDUE IN YOUR CARPETS! This is because we use a special chemical to strip, clean the carpet dye sites. It has a PH of 1, it is totally safe to infants & animals as well as allergy sufferers as well as to our wonderful environment. Our chemical has no odor and leaves no residue thus cleaning your carpet the most effectively. You wont believe it. Don't believe us? Watch us put some on your worst stain and watch the stain disappear!
Why Choose Revive Carpet Repair? Local carpet cleaning All of LA & Ventura Counties CA
There are many reasons to make Revive Carpet Repair your go-to Carpet services expert in All of LA & Ventura Counties, CA. Besides guaranteeing 100 per cent customer satisfaction, we epitomize dependability. Our customers know that when they use our services, we endeavor to resolve their carpet problems in quick-time. This has made us a household name in All of LA & Ventura Counties and helped us forge long-term relationships with our residential and commercial customers.
If you are wondering why Revive Carpet Repair is the right residential and commercial carpet cleaning and repair company in All of LA & Ventura Counties for you,
Here are some compelling reasons to choose us:
We handle all kinds of carpet cleaning  and repair jobs, from providing estimates to providing any carpet cleaning and carpet repair  that you may need.
We adhere stringently to standard and practices set forth by the IICRC (Carpet Cleaning Repair Installation Certifications Organization) to make sure you never fall into any problem in the future.
Our in-house technicians are certified and trained. They are up-to-date with the latest training and techniques and the necessary procedures to carry out all carpet cleaning and carpet repair work seamlessly.
 We offer our customers same day emergency services should the need arise.
 We have multiple trucks to service multiple customers simultaneously. Our trucks are completely equipped and stocked with the latest tools, equipment and materials to ensure we complete any assignment quickly- no need to come back.
We give our customers peace of mind when they need it most.
Our services are hassle-free and we boast a quick turnaround time, the same day.
We stand behind our work and offer you an ironclad "Revive Carpet Repair' guarantee" for our labor and quality of work.
We offer our customers tips on how to extend the life of their carpet.
Revive Carpet Repair Los Angeles is renowned for going beyond the call of duty. That is why we help our customers over the phone if they have any doubts or questions. We offer this service free-of-charge.
Whenever you call our office, you will always speak to the owner, who is certified, and who will guide you correctly.
It is prudent to remember that the IICRC has very specific regulations and our carpet technicians are trained to follow them stringently. We will always give you expert opinion supported by the right knowledge so that you can make an informed decision. We do not apply pressure to force you to hire our services and this relaxes you sufficiently to see the true picture and decide according.
So give us a call today at (310) 736-2018, you'll be glad you did!
Carpet Dyeing Frequently Asked Questions
Why Choose Us For Your Carpet Repair?
We give you not one but four irrefutable reasons to choose us over other carpet repair experts in Los Angeles. Read on to find out why our Revive Carpet Repair Experts can become your go-to agency whenever you want a new fitting or an old carpet replaced.
Our Home Owners Say
Tim is an outstanding human being first and a great business man second. He did a fantastic job repairing a bleach stain in my carpet. The attention to detail was impeccable. I greatly appreciate his professionalism and work ethic. Tim is a chemist, he's not just going to pour a cleaning solution of your carpet to remove a stain.  Tim is going to analyze your carpet and strategically apply the best method.
Tim did a Phenomenal job.  After contact many companies I chose Revive Carpet Repair and I'm a extremely happy with the results. Tim was very thorough, he found the perfect match for the carpet and I'm impressed because the beach marks just disappeared. Personally I highly recommended Tim services. He is great, punctual, honest and professional.
Tim is a MIRACLE worker! My daughter spilled a full cup of coffee, coconut oil and chocolate on brand new white carpet. Tim, using specialized knowledge and techniques, removed the stains 100% and returned my carpet to its original state. Truly amazing!  I VERY highly recommend Tim and Revive Carpet Repair!!